GolfNotch's Multi-use Putting Alignment Tool
Helps you setup and customize your putting practice drills.

Putting Path
With the putting path drill, you can adjust and close the path to help square your putter face at impact.

Funnel Drill
Setting up putting funnel drills is a breeze. Select the width using the tee notches, step and repeat to your target length.

Tee Path
The tee notches accomodate all USGA putter widths. Easy precision setup step and repeat to customize your practice routine.

Gate Drill
Set up putting gate drills is a breeze, select the width using the tee notches, step and repeat to your target length.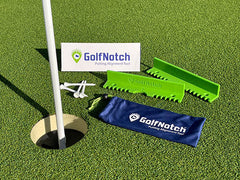 Putt Like a Pro.
Putting practice is made easy with GolfNotch's putting alignment tool. Get a true putting feel without obstructions with this multi-use putting alignment tool that's lightweight and compact. GolfNotch allows you to square your putter face and develop a consistent putting stroke. 
Train like a Pro by creating a true, consistent putting stroke and reduce scores!
Buy Now
Coach's Corner
See what the teaching pros have to say about GolfNotch's Putting Alignment Tool.
On The Green
__________________
There doesn't seem to be much GolfNotch did not think of when creating the product and honestly it's got a...
If you can improve your Alignment, Aim and Stroke you will become a better putter.
For consistency and rhythm, use your GolfNotch to align your putter face.